Albertus Magnus College
The Story
In the summer of 2013, GEM was invited to pitch a new campaign for Albertus Magnus College.
The mission of Albertus Magnus College is to provide men and women with an education that promotes the search for truth in all its dimensions and is practical in its application. Founded by the Dominican Sisters of Peace, Albertus Magnus College, faithful to its Catholic heritage and the Judeo-Christian tradition, remains dedicated to providing an opportunity for learning which responds to the academic needs and ethical challenges of its students and society.
Albertus Magnus offers a variety of degree programs that fall into three main categories: a traditional undergraduate program, a graduate program, and an adult program with undergraduate and graduate degrees.
The campaign had to accomplish a wide variety of goals:
Feature a unifying message for the entire College and all of its diverse programs
Develop sub-campaigns for each of the three main program categories
Use all marketing platforms: print, broadcast, web, social, and media planning
Continue the College's pioneering efforts in adult education
Increase adult enrollment both at the New Haven and East Hartford campuses
Fit within the structure of the College's Dominican tradition
Strategically-placed outdoor campaigns played a large role in drawing local interest to Albertus Magnus.
With digital billboards, GEM was able to boost interest in Albertus Magnus for a wide variety of programs.
New campaign designs carried over into various print assets, many of which were utilized on campus and at open house events.
All campaign items matched the new branding while targeting specific groups and demographics.
Campaign Development
After winning the pitch, GEM went to work creating a campaign that would re-introduce Albertus Magnus College to the world as a powerhouse in education. After poring through hundreds of hours of content featuring the students, professors and staff at Albertus, we discovered the uplifting, unifying message that echoed throughout the Albertus family:
"We have faith in your future."
Using this encouraging cornerstone with an effective double-entendre, we built a multiple touch-point campaign that would boost the visibility of the College using billboard, magazine, newspaper, signage, collateral, television, radio, responsive web design, digital ads, social media and online video.
In addition, we built Spanish language assets to target the Hispanic/Latino markets within the New Haven and Hartford markets. For the Spanish assets, we switched from a strong male voice to a warm female voice to reflect the matriarchal nature of Latino cultures. Using television and radio assets, we placed media on Univision, Telemundo, Radio Cumbre and La Bomba.
Responsive Microsite
GEM was tasked with redesigning the Education degree microsite for Albertus. As of Summer 2015, this template has been adapted to their entire website.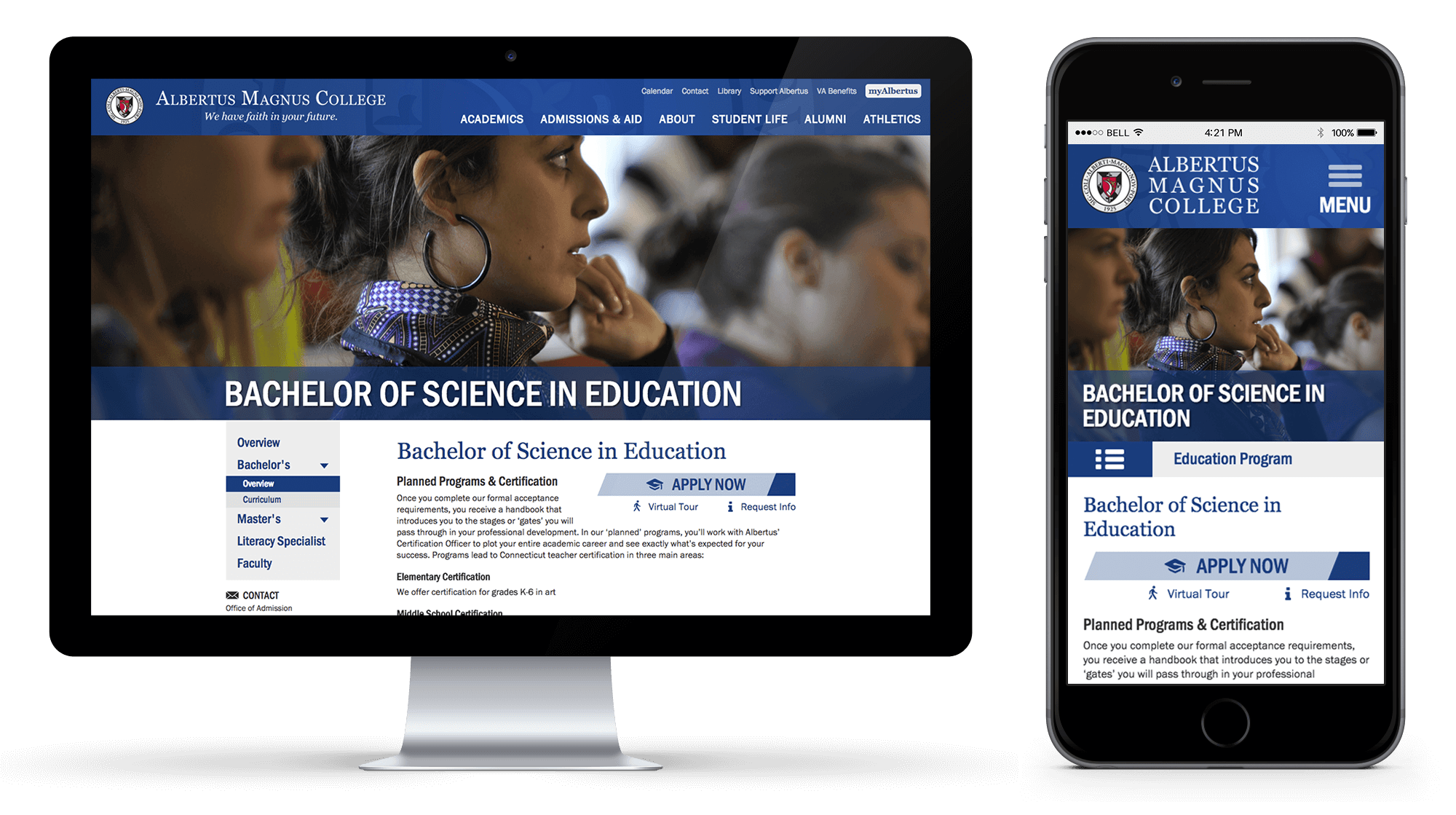 Outcomes
The primary KPI for the first six months of the campaign was open house attendance which ultimately led to enrollments. At the first open house, Albertus saw an attendance increase of over 700%, which led to a whopping 30% application rate.
By the fifth month of the campaign, Albertus launched its first open house in its East Hartford location, which had a 40% application rate. The Campaign went on to win Davey, Telly, Communicator and W3 Awards for international excellence in writing, film+television, and integrated campaigns among colleges and universities.
As metrics continue to pour in, we will update this branding story as time goes on. For now, when it comes to the growth potential at Albertus Magnus College, we have more than just faith in its future.
With GEM's strong original campaign came a new way to brand TV spots and web videos.
Radio Branding Spot (English)
Radio Branding Spot (Spanish)
Radio spots were a crucial part of the campaign, targeting both English and Spanish-speaking people.
The Albertus Magnus branding was constantly evolving to stay recognizable but fresh.
Several campaigns targeting working adults and veterans ran on TV.
Social Media Outcomes
A chart detailing Albertus Magnus' social media following on Facebook, Twitter, and Instagram from September 2013 to March 2015. Click or tap to enlarge.